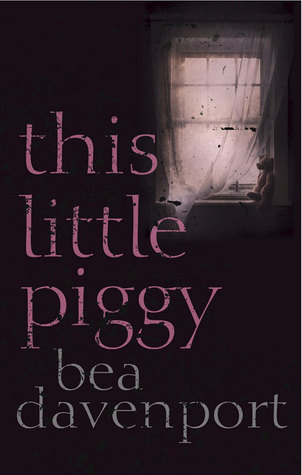 I almost didn't get to read this book. Before I downloaded it, it got (mistakenly) archived on NetGalley. Thankfully, that was fixed and I managed to read it!
This Little Piggy, well, I wouldn't call it a mystery, even though at the centre is the unexplained death of little baby Jamie. Instead, it's about Clare and her journey. Clare isn't related to the poor baby that died, instead, she's a journalist that covers this case. As the murder happened to the baby of a strike breaker, tensions around the estate are high, and this has the potential to be one explosive story. So of course, the "head reporter" tries to muscle in on the story (although he never got really far). And as you read, you wonder, if Clare is so competent, why didn't she get the top job? What happened that prevented her from going to the interview? That is the real mystery of the book.
The other character that plays a significant role is Amy, a nine year old girl living near baby Jamie. She used to babysit baby Jamie, which is how she meets Clare. Amy quickly latches on to Clare, who cannot bear to shake her off because she seems neglected. And of course, Amy's propensity to tell tales is because of her upbringing - right?
And then there's Finn, the newly appointed head of the miner's union. I'm just going to say that I didn't like Finn from the start, and I didn't like the way his relationship developed with Clare. In fact, I thought that the romance aspect of the book was... strange. I was never convinced by any relationship, and I wonder why it's even in there. If we're talking in terms of stars, this aspect would be what keeps the book at four stars for me, not five.
But, overall, this is an excellent read. Even though this isn't really a mystery, I must admit that I was wrong about who the killer is. Still, don't read this for the mystery. Read this for the characters and for the portrayal of a town rocked in half over a strike - and the poor victims of it.
Disclaimer: I got a free copy of this book from the publisher via NetGalley in exchange for a free and honest review.