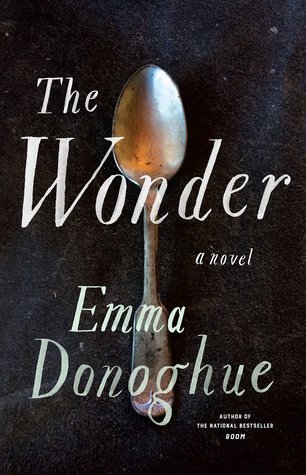 I'm not sure when NetGalley decided to approve my request for this book, but I was super excited to read this because I enjoyed both Room and Slammerkin!
The Wonder is less like Room and more like Slammerkin because it's historical fiction. Inspired by the tales of the 'Fasting Girls', who were supposed to have done without food for long periods, it follows Lib, a nurse who is charged with making sure that Anna is surviving without any food.
Since Lib accepted the job without knowing what it entailed, she is shocked by the requirements. But as a nurse trained by Florence Nightingale herself, she is determined to be careful, methodical and to expose Anna as the fraud she is. But as she spends more time with Anna, she realises that the girl really does believe that she doesn't need to it.
The only problem is - her body is dying from starvation.
I'm not going to say more and reveal the ending but I thought this was an absorbing book. It's told in five long parts (really, don't start a part/chapter unless you know you have the time to finish it) and even though the events all take place in a week, it feels like forever and yet no time has passed. Through her interactions with Anna, Lib is forced to confront her own demons.
The characters here are well-written. Apart from Anna and Lib, I found that even minor characters have layers to them. Who is impartial? Who has an agenda? Well, in the end, I was so angry at many of the characters (who appeared quite innocent at the start) but the truth of who they were felt believable (if sad).
Oh and this is one of the books where the setting is practically a character. The story takes place in Ireland, with all its confusion that it gives to Lib with her modern way of thinking, and I cannot imagine the story taking place anywhere else. The Irish characters are clearly shaped by the land that they live in and their actions are influenced by their culture and heritage. Every time a character that was not Lib spoke or acted, there was the sense that this was Ireland.
I would definitely recommend this book to fans of historical fiction or people just looking for an engaging story featuring strong characters. A word of warning: the book does deal with very dark themes, especially towards the end. Do not expect this to be an easy read, although I guess the premise would have told you that already.
Disclaimer: I got a free copy of this book from the publisher via NetGalley in exchange for a free and honest review.