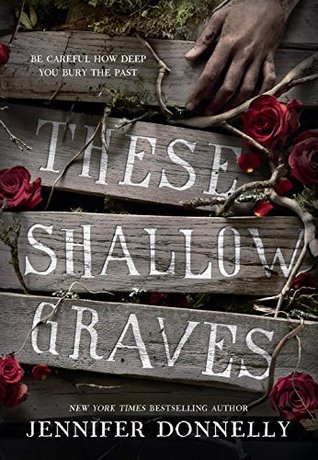 These Shallow Graves is about Josephine Montford, a well-bred girl who has secret dreams of becoming a reporter. But when her father is found dead, her curiosity leads her down an increasingly dangerous path. Trying to stop her from going into danger is a newsboy called Eddie. And pulling her back to her old world is her beau Bram, who she doesn't really love, but has an obligation to. (Bram isn't a bad person, he and Jo are friends, but she's not in love with him)
I really like mysteries, and was excited-but-hesitant for this book because it had two elements that could have turned me off: one, an unconventional-for-her-time protagonist, and two, a love triangle. The first because I didn't want to be pulled out of the story due to a 21st century character stuck in the past, and the second because insta-love and love triangles aren't really my thing. But these two things were done really well, and they actually increased my enjoyment of the book.
For one, the unconventional thing, the book starts off by letting us know that Jo has access to the writings of progressive reporters, and has secret dreams. Plus, she constantly struggles between following her heart and society. It's not a straight line to disowning her heritage, but instead, she continually falters back. It might be annoying for some, but I found that her actions made her more believable and sympathetic to me. After all, it's easy to want to be different, but when you actually have to act that way, the status quo is going to feel safer.
As for the second point, the romance isn't instantaneous, and it didn't dominate the book. It was a vital part, but the emphasis was clearly on the murders and the investigation. Also, Eddie and Jo was a couple that I am definitely rooting for. I think they'll make each other better, and they have really great chemistry (I didn't think I would type these words :p)
The supporting cast of characters was also very varied, and I liked a lot of them. So two thumbs up🏼 for that too.
Despite the fact that this had one hundred chapters, it really flew by. Part of it is because the chapters are short, but I think the pacing of the book was well done too. If you like murder mysteries, you'll enjoy this. Totally worth reading.