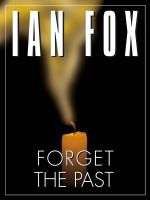 Last year, I reviewed
Promise Me Eternity by Ian Fox
. I don't think I told you this, but I read, and then declined to review another one of his book because it had too much sexual content for me. So imagine how surprised I was when Ian approached me to ask me if I would read Forget The Past, and remembered my reading tastes! I am honestly very touched.
And, I'm very happy to tell you, very objectively, the Forget the Past is a really good book. I couldn't put it down (good thing that it was the holidays) and finished it in one morning.
Forget the Past follows Anya, a reporter who has a few issues, as she investigates the murder of her psychaitrist, Patricia. She was initially recruited by Patricia's sister Bertha, but as she investigates, the case begins to take on a life of its own.
Very few of the characters (apart from Anya, Beth, and a few minor characters) were likable. Bertha was certainly more likable than Lisa (who was truly a self-centered woman), but even she wasn't the nicest woman in the book. But I think that's what makes the book good - it's populated with rather nasty characters, which made for many suspects. I was torn between the suspect choices and you know what? I still couldn't guess who the real murderer was.
Apart from the mystery, I think this book is quite a good look at the issue of psychiatry and normalcy. After all, must the psychiatrist be in perfect mental health his/herself? I would like the answer to be yes, but in this book, well, you'll see. I think almost every character in this book has some sort of mental issue, which begets the question - what is normal?
This isn't a happy book, it's quite gritty, but it's worth a read. It does have some sex in it, but nothing explicit is written down. I would recommend this to older teens and up looking for a good mystery.
Disclaimer: I got a free copy of this book from the author in exchange for a free and honest review.