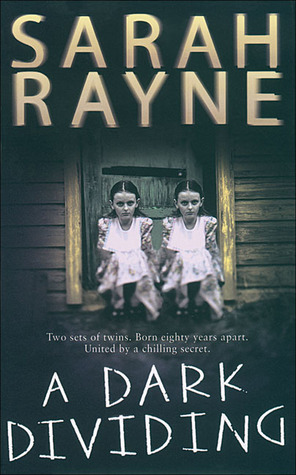 Reread this after Chord of Evil and it's just as chilling as I remembered it! If I remember correctly, this was the first Sarah Rayne book that I read.
A Dark Dividing is a dual narrative with a dual narrative nestled within. The present day follows journalist Harry as he investigates an up and coming artist named Simone Anderson, with flashbacks to Simone's childhood.. The narrative in the past consists diary excerpts from Charlotte, who's pregnant with twins. The present day narrative is slightly more complicated as Harry, Melissa (Simone's Mother), Simone (as a child) and Rox (crazy nurse) are all POV characters. As the story continues, it's clear that two sets of conjoined twins lie at the heart of the story.
And of course, there's a sinister house named Mortmain...
The story could be extremely confusing, but the writing and pacing are extremely well-done and I wasn't confused at all. Admittedly, this is a reread but I didn't feel confused at all. The multiple POVs and time-shifts worked well to increase the tension of the book and the plot was well-paced as well.
My favourite part of the book is the dark and creepy tone. I looked and someone on the blurb called it a psychological thriller but it feels a lot more like horror to me. There is a dark undertone that's present right from the start and it gave me chills, even during the day.
A note about characters: the two 'baddies' of the book - the creepy girl that Simone hears (hopefully that's not a big spoiler) and Rosie were really well-developed. In particular, Rosie's descent from a slightly odd character into madness and obsession was very well-written and felt natural (as odd as that sounded). There was a darkness in Rosie that grew and grew and in a way, she was the dark dividing.
If you're into dark, creepy novels with deftly written dual narratives that tie together, you've got to read this (and other Sarah Rayne books). It's got me wanting to reread more, and I probably will borrow whatever I can find from the library. And now, the question is: when will I get to the library?