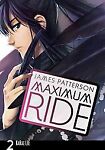 I managed to go to the library, although weirdly, I didn't actually have much "school books" to go and find and borrow.... But I did manage to find quite a lot of books that I've been intending to read.
One of them is the Maximum ride manga. It's drawn by a Korean mangaka, so the illustrations are good. The story, as I've mentioned before, is true to the book, so I'm really happy.
The second book is quite cool, since there's a character makeover in it. There's actually not much to say, since I can't really talk about the graphics (because I don't have the suitable vocab for it), and the story, well, James Patterson is a good writer, and I've always enjoyed the series.
Well, I am a bit disturbed by the latter Maximum Ride novels which are beginning to be OOC for me, although that may be because I've been away from the fandom for so long. An 'evil' Angel, even though it's been hinted at from the start, is still creepy.
And Fang can't die! (A rather big spoiler for the novel Fang: A Maximum Ride novel). And he can't leave Max either (fangirl at heart)
But still.... I'll be reading the stories. But I'm probably making a gradual switch to Anthony Horowitz (sp?), since I really love the Alex Rider series. I want to read and watch I Am Number Four now(: