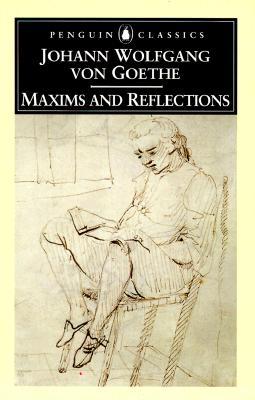 I'm not sure why I decided to borrow this book, but I did. Basically, it's a collection of Goethe's passing thoughts, which is really strange because I don't think I've read Goethe before (I know, I'm terrible. I should probably remedy that soon).
Maxims and Reflections is basically a book of quotes. Some, I really liked, such as:
"Books, we find, are like new acquaintances. To begin with, we are highly delighted if we find an area of general agreement, if we feel a friendly response concerning some important aspect of our life. It is only on closer acquaintance that differences begin to emerge, at which point the great thing is not immediately to recoil, as may happen at a more youthful age, but to cling very firmly to areas of agreement and fully to clarify our differences without on that account aiming at identity in our views."
or
"Fairytale: presents impossible events under possible or almost impossible conditions as though they were possible.
Some, I disagreed with (although I can't really find one, because I made way too many bookmarks). And there are more than a few that I think will cause debate, such as
"Anyone who doesn't know foreign languages knows nothing of his own"
and
"None clamour for freedom of the press except those who want to misuse it."
Basically, although this book is full of short quotes, it's going to take a very long time to read. In fact, I think the best way to read it is in short bits and pieces, thinking over what he says. Which is why this book took me much longer than I expected to read it, and got a bit too heavy for me at the end (or rather, I decided to read the last third in one sitting and the last section really just flew by me).
Perhaps I should come back to this book one day in the future, when I have more time/a paperback copy and don't have to return it in 21 days.