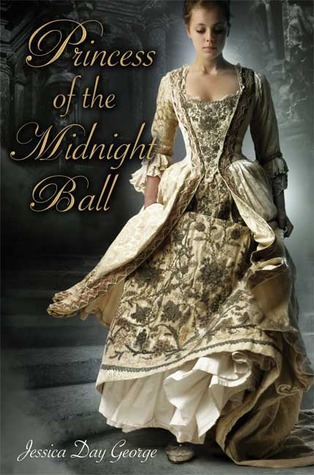 I found this book on Goodreads, when I was searching for something related to fairytales for the Once Upon a Tale reading challenge, and all I can say after this is: WHERE HAVE YOU BEEN ALL MY LIFE?
Once I'm done with the challenge, I am so going back and reading all the books of hers that the NLB has!
Basically, Princess of the Midnight Ball is a retellings of the 12 Dancing Princess, but from the point of view of the soldier that solves the case.
In this book, the soldier is the main character. He's just returned from a long war, and finds that his only family are the Royal gardeners. So he finds work there, and runs into the princesses, including the eldest, Princess Rose.
Soon, the princess are afflicted with a mysterious illness. They're exhausted and every night, their shoes are worn out. And soon, a Bishop comes and accused them of being witches. Or at least, falling under the spell of a witch.
To save Rose and her sisters, Galen must use the gifts from a strange old woman, help from a gardener named Walter and all his wits.
Let's start with the surprising thing: I liked the romance and totally supported Galen and Rose. I don't know why, but I'm always surprised when I find that I like a romance. I guess I'm just too skeptical when it comes to bookish relationships.
But really, Galen and Rose were a really sweet couple. I guess I liked them because neither of them were perfect. They were just people that were doing their best. Plus, the romance came slowly, which is how I prefer it to develop.
The other princesses were really lovely too, though there were still too many of them for me to clearly remember. I do so love little Pansy though - she has some really great scenes and she's just adorable!!
Apart from the characters, the other thing that made me fall in love with the book was the world. I totally loved the interpretation of why the princess had to dance every night. It makes sense as to why they would do something so tiring.
If you like fairy tale retellings, I would totally recommend this book. It's an interesting take on the story of The Twelve Dancing Princesses, and makes sense of why the eldest would happily marry the soldier at the end.
Now, I need to check what other books I need to read to finish the challenge. After I finish the challenge, of course. I've got one more book to go before I finish Quest the Second (I think?), and then I can read one more of this to finish Quest the First.