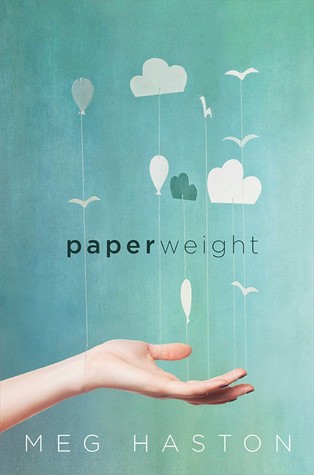 I heard about this book from
PD Workman's Teaser Tuesday
, and it intrigued me enough that I borrowed it from the NLB eReads program!
Paperweight is an incredibly sad, incredibly hopeful book (but only hopeful towards the end). It follows Stevie (Stephanie), who is checked into an eating disorder clinic against her will.
Stevie is determined not to get better because she has a plan. She's going to make sure she disappears/dies on the one year anniversary of her brother's death because she's the one who killed him.
Of course, she's not technically (or even morally) the one who killed him, but she feels the guilt, and she's very adamant on feeling the guilt. But slowly, despite her unwillingness to listen, her therapist makes her think, and she forms friendships with the other girls.
I'm not going to describe more of the plot because it would lead to spoilers, but rest assured, it's sensitively written and I liked the pacing. As the days pass, we find out more about what happened to Stevie's brother, and after she reached the lowest point, she slowly begins to get better.
Stevie is not charming, but it's easy to feel empathy for her. The more I read, the more I was rooting for her to be able to heal, and not to succumb to her disease and guilt.
The ending is hopeful enough. It's not perfect, and there wasn't an emotional blowout (the kind that is satisfying for the reader to read) with two characters that I expected, but Stevie is on her journey of healing, not reaching the end, so it's only natural for there to be a few loose ends.
This book isn't for young kids because of some adult language, but I would encourage everyone else to read this.