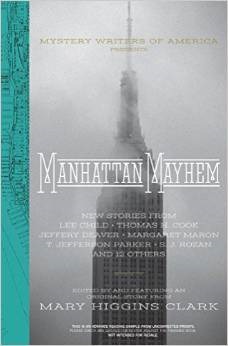 Manhattan Mayhem is a collection of mystery short stories, and obviously, I had to request it from NetGalley. Mystery!
But, as much as I would like to say so, the book wasn't a unanimous hit. I liked quite a few of the stories, but I didn't understand (or connect) with a fair few either. It's probably a matter of personal taste, but I would say that the number of stories I didn't get/was bored with was roughly the same as the number of stories I loved, while the rest were fairly normal. So instead of talking about the stories I didn't get, like the play, I thought I'd just pick out a few of my favourite short stories from the collection.
White Rabbit by Julie Hyzy: How can I not love anything that has Alice in Wonderland as an inspiration? I thought the story was well-done, and the twist at the ending definitely surprised me. I was completely fooled by the author.
Three Little Words: About a terminally ill patient who was killed. There's family drama, and I spent a lot of the time wondering who on earth killed her. Obviously, I was wrong (again), but there were some great moments of tension here.
Damage Control by Thomas H. Cook: A girl dies, and her foster father is contacted. It was an interesting look at how people can see the same event differently. I was left wondering who's perception of the events was the truth - and we'll never know, since the only person who knows her intentions is now dead.
Serial Benefactor by Jon L. Breen: My second favourite story in this collection! It's about a series of mysterious murders, and while the murderer is never explicitly mentioned, I have my own suspicions. Whether I'm right or not depends on whether the narrator is an unreliable narrator.
Red Headed Stepchild by Margaret Maron: My favourite story in the entire book, even though it's not really a mystery. Even though it's on the short side compared to the other stories, the author packs a punch and a twist in it. I really enjoyed reading it.
So these are my favourite 5 out of 17 stories. On the whole, the collection was enjoyable, although there weren't enough stories that I loved that would make me buy a permanent copy. Borrow it, yes, but not buy it.
Disclaimer: I got a free copy of this book from the publisher via Netgalley in exchange for a free and honest review.