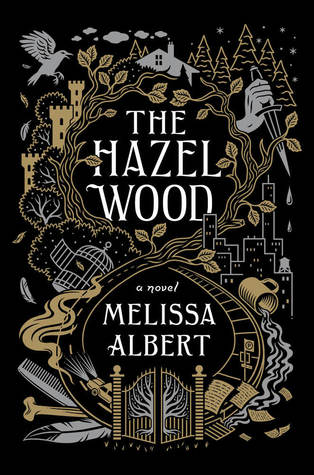 As you know, I'm a huge sucker for fairytales, which is why I picked this book up. The name and the cover intrigued me, as did the promise of a book within a book.
The Hazel Wood stars Alice, an angry girl who has been on the road with her mom for her whole life, trying to escape their bad luck. After her grandmother, the famous author Althea Prosperine passes away, her mother falls in love and decides to settle down.
But her mother jumped to conclusions and Alice comes home from school one day to discover that her mother, stepfather, and stepsister have been stolen away by the Hinterland. While her stepfather and stepsister are returned, her mother is not and Alice embarks on a journey to rescue her mother.
Helping her is Finch, a boy from her school who's a super fan of her grandmother and has actually read the stories she wrote. He introduces her to her grandmother's dark works, something that proves invaluable in their journey.
I love dark fairytales so I obviously really enjoyed this work. I can't say too much without giving away spoilers but I thought the worldbuilding was excellent and tied in with Alice's personality very well.
And of course, I loved the retold fairytales here! They are dark and creepy and so good. I went to Goodreads and saw that the author will be publishing the tales in a standalone book and I am so excited for that!! But the estimated publishing date is 2020 which makes me a little sad (and I hope I don't forget about it!)
Going back to Alice, I thought she was a really interesting character. She has some anger management issues, which she acknowledges and tries to manage, but her love for her mother is fierce and true (although complicated, like all relationships) and I really admired her loyalty.
I also liked Finch, the super rich super fan that immediately helped Alice. Unfortunately, he and Alice's relationship didn't develop the way I expected and hoped, but their relationship was still pretty sweet.
If you're a fan of dark fairytales, you'll want to read this. I really enjoyed this book and I cannot wait for the standalone of the stories to come out!